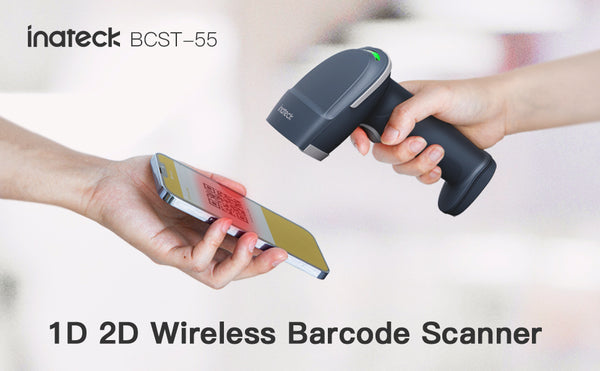 Compatible Operating System
Personal Computer End: Windows 11/10/8.1/8/7/Vista/XP/CE, Mac OS X, Chrome OS, Linux, Unix, RASPBERRY PI.
Mobile End: Android and iOS
PC end: Windows 11/10/8.1/8/7/Vista/XP/CE, Mac OS X, Linux, Unix, RASPBERRY PI and Chrome OS
Supported Barcodes
1D Barcodes:
Code 128, UPC-A, UPC-E, EAN-13, EAN-8, Code 39, Code 93, Codabar, Interleaved 2 of 5, Standard 2 of 5, Industrial 2 of 5, Matrix 2 of 5, IATA 2 of 5, MSI, Code 11, ISBN, ISSN, etc.
2D Barcodes:
QR Code, PDF-417, Aztec Code, Maxi Code, Data Matrix, etc.
GS1-Barcodes:
GS1 128, GS1 DataBar, GS1 DataBar Expanded, GS1 DataBar Limited, GS1-DataBar Stacked, GS1-DataBar Stacked Omni, GS1-DataBar Expanded Stacked, GS1-DataBar Stacked Composite, GS1-DataBar Stacked Omni Composite, GS1-128 Composite Symbology, GS1-DataBar Composite, GS1-DataBar Limited Composite, GS1-DataBar Expanded Composite.
Note: For better decoding speed, some non frequently used barcodes are disabled by default. Therefore, please follow steps in the manual to enable the barcode you need to scan when necessary.
Default Disabled Barcodes
Code 11, Code 32, ISBN, ISSN, MSI, IATA 2 of 5, Matrix 2 of 5, Standard 2 of 5, Industrial 2 of 5, Aztec Code, Maxi Code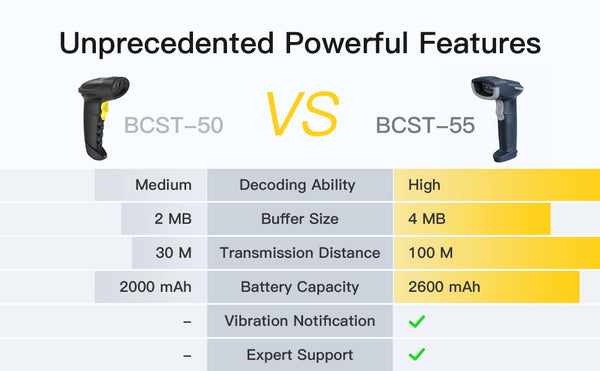 Superb Decoding Capability
BCST-55 can read mainstream 2D barcodes and all 1D barcodes easily, including those with unintended abrasions or surface stains. Integrated with the decoding algorithm self-developed by Inateck, it decodes barcodes faster than the products of previous generation. The built-in CMOS sensors enable the scanner to read barcodes off sceens, allowing more convenient usage.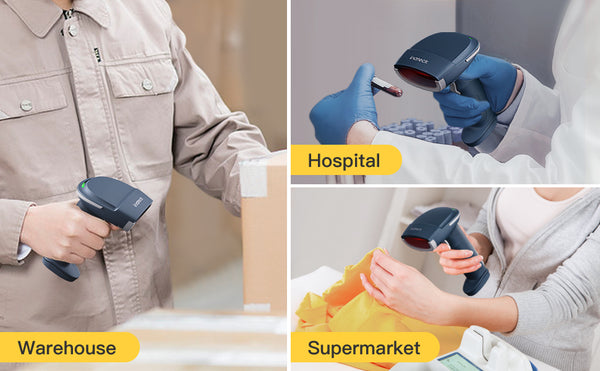 3 Connection Methods
1. Bluetooth mode: Compatible with computers, tablets, mobile phones, etc.
2. 2.4G adapter mode: Wireless connection, paired by default.
3. USB wired mode: Plug and play, no driver required.
These connection methods are applicable for various scenarios such as supermarkets, warehouses, pharmacies and hospitals.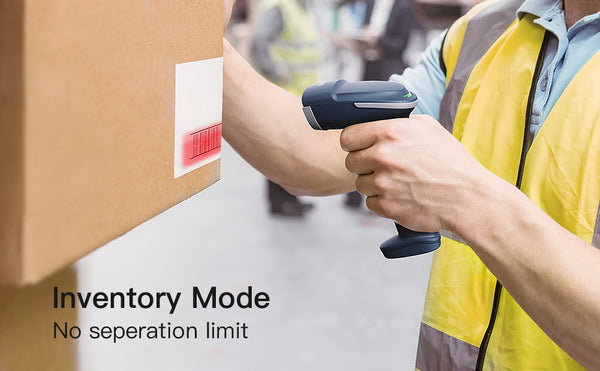 Inventory Mode
BCST-55 supports inventory mode where you can temporarily save over 270,000 barcodes in buffer and easily count the number of the barcode you scan, which effectively improves the work productivity of staff working in warehouses and factory assembly lines. In addition, there are multiple scanning modes such as manual scanning mode, hands-free mode and continuous scanning mode. 
Custom Configuration
Custom configuration is available for BCST-55. Please configure your scanner according to the instruction manual for desired functions including but not limited to the following ones.
1. Customize 1-32 digit prefixes/suffixes.
2. Add Enter or Tab as the suffix.
3. Delete 0~99 beginning/ending digits.
4. Output barcode as uppercase/lowercase
5. Switch to other language keyboard such as Japanese, English(US), German, French(France), French(Canada), Spanish, Italian and English(UK).|
Expert Support
Thanks to our own R&D team and manufacturing facility, we are capable of offering you expert support. If any special configuration is needed, please give us a detailed description of your requirements so that we can provide you with a custom upgrade firmware.