BCST-42_green Description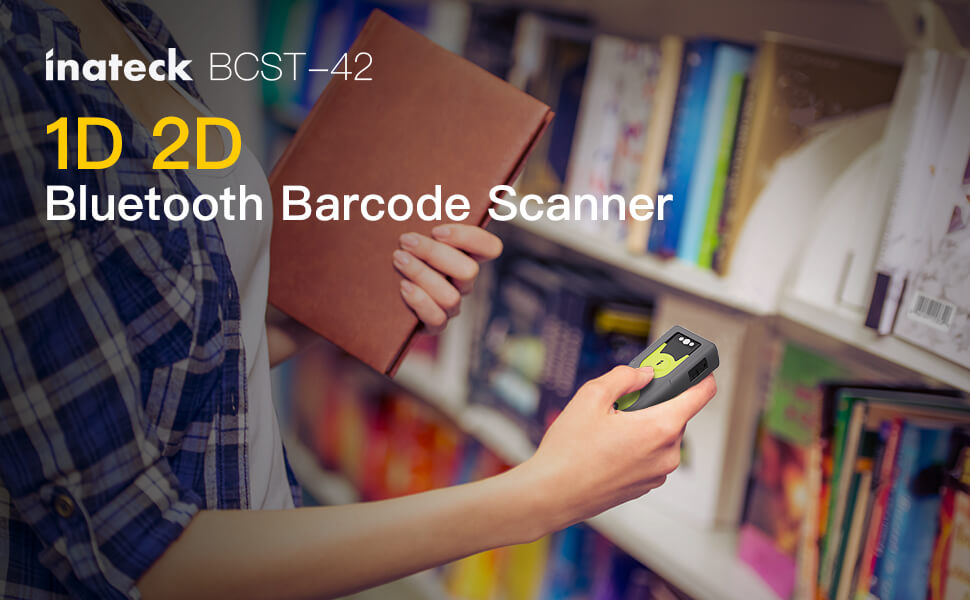 Supported Barcodes
Inateck BCST-42 is capable of reading most 1D and 2D barcodes on paper and screen.
1D:Code 128, EAN-13, EAN-8, UPC-A, UPC-E, Code 39, Code 93, Codabar,Interleaved 2 of 5, Standard 2 of 5, Industrial 2 of 5, Matrix 2 of 5,IATA 2 of 5, MSI, Code 11, ISBN, ISSN
2D:QRCode, PDF-417, Aztec Code, Data Matrix
GS1 code:GS1 128, GS1 DataBar, GS1 DataBar Expanded, GS1 DataBar Limited, GS1 DataBar CompositeNote: For better decoding speed, some non frequently used barcodes are disabled by default so please follow steps in the manual to enable the barcode type you need when necessary.
Default Disabled BarcodesCode 11, Code 32, ISBN, ISSN, MSI, IATA 2 of 5, Matrix 2 of 5, Standard 2 of 5/Industrial 2 of 5, Aztec Code
Compatible OSMobile end: iOS and AndroidPC end: Windows 11/10/8.1/8/ 7/Vista/XP/CE, MAC OS X, Linux, Unix and Chrome OS
Note:This product is not compatible with some POS software such as Square and Shopify. We have no restrictions or requirements for any POS system but some POS systems require designated barcode scanners. If you are wondering if this scanner is compatible with your software, please reach out to the software manufacturer for better assistance.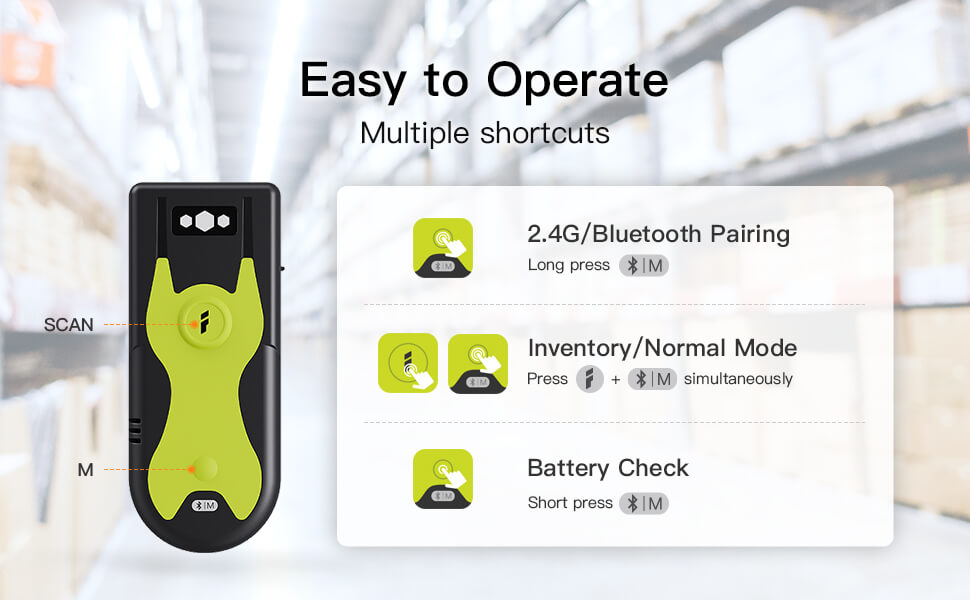 Out of the Box
The usage has been simplified so it is not necessary to carry the instruction manual during use for most users.
1. The scanner is on the silent and vibrate mode by default, which is a good companion for users in libraries and bookstores.
2. The independant power switch can prevent misoperation when you put the scanner in the pocket.
3. To save power, it will automatically enter sleep mode after 3 minutes of inactivity. You may reset the auto sleep time if needed.
4. Thoughtful shortcut feature is available.
a. 2.4G /Bluetooth Pairing: Long press the M button b. Inventory/Normal Mode Switch: Long press the scanning button and the M button at the same time. c. Quick Check on Battery Level: Short press the M button. d. Wireless Adapter/Bluetooth Mode Switch: Long press the M button and switch on the scanner simultaneously. e. iOS Virtual Keyboard: Long press the scanning button for 3s to invoke it.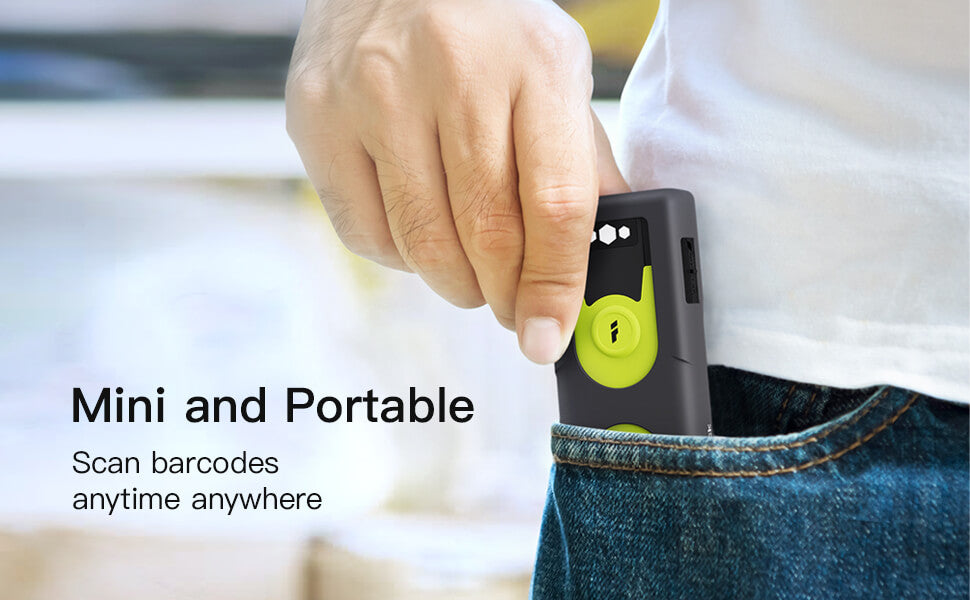 Considerate Protection
It comes with a silicone protective case to protect against dust and drop.
Compact and Portable
BCST-42 only weighs 81g, which makes it easy to carry it around and scan barcodes anywhere anytime.
Connection Methods
USB Mode: Plug and play.Bluetooth Mode: With the built-in Bluetooth 5.0 module, this scanner can be connected with your devices such as a mobile phone, tablet or a laptop, no adapter required.2.4G Adapter Mode: Default mode, plug and play. Even PCs without Bluetooth function can work with the scanner in wireless mode.

Note: The scanner is in 2.4G adapter mode by default. If you'd like to connect it with your device via Bluetooth, please first switch to Bluetooth mode by pressing the shortcut button or scanning the command barcode according to the quick-setting user guide or the instruction manual.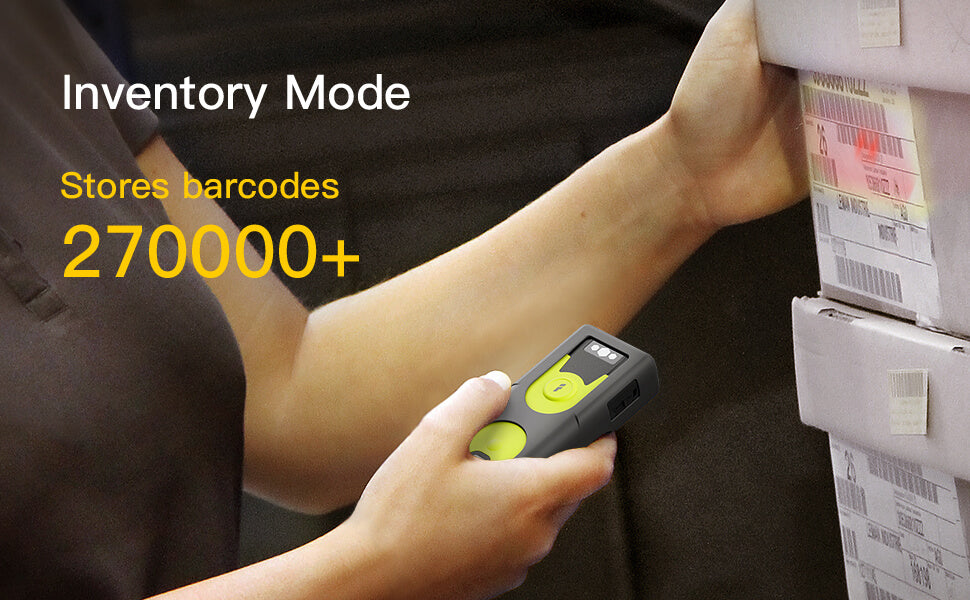 Superb Decoding Capability
Screen Scanning: The scanner can almost read all 1D and 2D barcodes on paper and screen.*Due to different decoding algorithms, laser scanners have more advantage to read long barcodes. If you mainly scan long 1D barcodes with 20 or more characters and expect high scanning speed, we recommend the Inateck BCST-70 barcode scanner.
Multiple Notifications
BCST-42 is on the silent and vibrate mode by default. If you would like to turn on sound notifications, please manually configure the scanner according to the instruction manual.
Inventory Mode
BCST-42 supports inventory mode where you can temporarily save over 270,000 barcodes in buffer and then you can manually upload the data to your device in batch.
Custom Configuration
Custom configuration is available for BCST-42. Please configure your scanner according to the instruction manual for desired functions including but not limited to the following ones. 1. Customize 1-32 digit prefixes/suffixes. 2. Delete 0~99 beginning/ending characters. 3. Output barcode as uppercase/lowercase 4. Switch to other language keyboard such as Japanese, English(US), German, French(France), French(Canada), Spanish, Italian and English(UK).
Support APP/SDK for Newer Version:
There are 2 versions of BCST-42 available on our sites:
Supports APP/SDK: SN prefix from 2I.
Not supports APP/SDK: SN prefix lower than 2I.
Notice: For the 1st newer version, firmware needs to be upgraded before using our APP and SDK. Please send an email to support@inateck.com, contact our customer service to obtain the upgrade software.
Note:
If you need the complete manual or any special configuration, please feel free to reach out to us.